5 LESBIANS EATING A QUICHE 
BY EVAN LINDER AND ANDREW HOBGOOD
April 30 - May 9, 2015
Where: Studio 101, Spring Street Studios, Spring Street Studios Houston, Tx 77007
In the face of an atomic bomb threat, the Susan B. Anthony Society for the Sisters of Gertrude Stein know what's really important: Quiche.

*After 5 Lesbians Eating a Quiche, there will be a brief intermission followed by special guest performances by local improv troupes and some cabaret-style songs.  
So get ready for a night of entertainment that will bubble, sizzle, and broaden the definition of what constitutes a night out at the theatre! 
Meet the Cast of 5 Lesbians Eating a Quiche
Lulie Stanwyck - President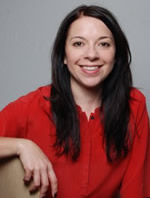 Sammi Sicinski is thrilled to be joining the cast of 5 Lesbians Eating a Quiche. She was most recently seen as Devon in Landing Theatre Company's regional premiere of Devil Dog Six. Other Houston credits include Landing Theatre Company: The Me Generation; All in the Timing. Standing Room Only: Young Frankenstein: The Musical. Stages: Forty Miles from Tel Aviv. Theatre Southwest: Critic's Choice; 2012 Festival of Originals. Midtown Arts Center: Anton in Show Business. Houston Family Arts Center: Willowgrove. New York City credits include: Secrets of Lamplit Blinds, Audrey in Dresses, Wiseacre Farm, and Basilicata. She is a proud graduate of The University of Houston where she received her BA in Theatre. Sammi would like to thank her husband Rhett, Mom, Dad, and the pugs for all their love and support.
Wren Robin - Events Chairwoman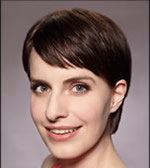 Melanie Martin has been seen throughout the Houston theatre world. Recent credits include In Juliet's Garden, Secrets of a Soccer Mom, Your Family Sucks, The Laramie Project, Extremities, Cactus Flower, The Miss Firecracker Contest, The Cocktail Hour, and The Discussion of the 'L' Word. Melanie's favorite Atlanta theatre credits include Dracula, The Tibetan Book Of The Dead Or How Not To Do It Again, A Funny Thing Happened On The Way To The Forum, and Fefu And Her Friends.
Ginny Cadbury - Secretary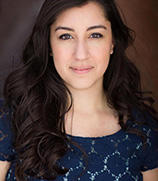 Adriana Dominguez received a Bachelor in Fine Arts from Sam Houston State University with a major in Theatre emphasizing in Acting and Directing. She has been recently seen in Boiling Point Players's January and March Cabarets. Other recent credits include directing "The Conquest of Guernica" (Mildred's Umbrella- Museum of Dysfunction) and "Stonewater Rapture" (Sam Houston State University). Her acting credits include Dying For It, Playhouse Creatures, Trojan Women, Pippin, Joseph and the Amazing Technicolor Dreamcoat, and Godspell.
Dale Prist - Historian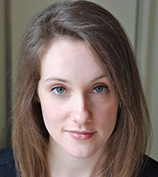 Inge Kellermann is very excited to make her Houston theater debut with this awesome female cast. She is thankful to the Boiling Point Players for the opportunity to be a part of such a fun, vibrant production. She recently moved to Houston after graduating with her Masters in Theater Education and Performance from Emerson College. She would like to give a shout out to her husband, family and friends for all their support. She's ready to eat some quiche!
Veronica "Vern" Schultz - Buildings and Grounds Chairman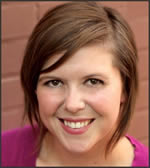 Autumn Clack is half of a two woman improv team, Ophelia's Rope, along with Ruth S McCleskey, and is a co-founder of Boiling Point Players. She has a BFA in Theatre from Adelphi University in New York and studied at London Dramatic Academy through Marymount Fordham University. Favorite past roles include Allison in Secrets of a Soccer Mom with Boiling Point Players, Teresa in The Jeweler's Shop with the JPII Forum, Esther in Pollywog with Mildred's Umbrella and Nicole in Large Animal Games with Mildred's Umbrella. She dedicates this performance to all the writers who submitted to A New You - thank you for your time and talent! 
Meet the Crew
Director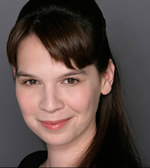 Ruth S. McCleskey graduated with honors from the University of Houston, magna cum laude, with a degree in theater. Her thesis was titled A Directorial Approach to "Who Will Carry the Word?" by Charlotte Delbo. She is a co-founder of Boiling Point Players and performs in the two person long form improv group Ophelia's Rope with Autumn Clack. Amongst her favorite theater credits: In Juliet's Garden, Secrets of a Soccer Mom, Sylvia, Hedda Gabler in Hedda Gabler, The Truth of a Lie at the Heart of a Deception, The AntiChrist Cometh, Macbeth Mixup, Romeo and Juliet, The Nerd, Sordid Lives, Carl the Second, and Blueness/Grayness.
Stage Manager/Light Designer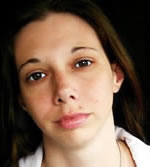 Amy Pope is readying for her fourth time working with Boiling Point Players. She is excited to be working with these ladies again. Amy is on the Board of Directors at Company OnStage where she recently directed The Little Mermaid.
Assistant Stage Manager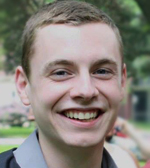 DJ Odgers has been working with Boiling Point Players since its beginning, filming their productions and catering to a wide range of theatre tasks. He is especially excited to help them with their season finale, 5 Lesbians Eating a Quiche.  DJ expresses talent in the fields of filming, setup and sarcastic dialogue.
Costume Designer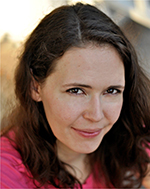 Katherine Rinaldi is excited to be working once again with the Boiling Point Players, for their season closer. Katherine learned costuming while studying for her undergraduate from the University of Saint Thomas. Her costuming credits include: Trojan Women, 59 Pink Thunderbird, The Importance of Being Ernest, Spoon River Anthology, Snoopy, An Ideal Husband, and The Jewelers Shop.
Meet the Improvisors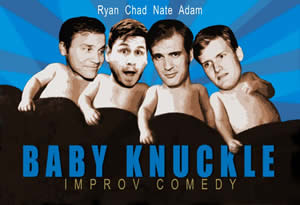 May 1, 2015
May 9, 2015 Adam Pecht will be sitting in with Ophelia's Rope
Baby Knuckle  is a four man longform improv comedy troupe out of Houston, Texas. Members include: Ryan Bradley Heine, Adam Pecht, Nate Suurmeyer, and Chad Minchew.  Ryan, Adam, and Nate met as part of Houston's Massive Improv and Rogue Improv theater groups. Chad's roots are with Comedy Sportz Houston. The members of Baby Knuckle have performed in the Houston Improv Festival, Trill Comedy Festival (Houston), Megaphone Marathon (Austin-Houston), Austin Out of Bounds Festival, Del Close Marathon (NYC), and the Los Angeles Improv Festival.  As a group, Baby Knuckle performs in venues across Houston including ComedySportz, Station Theater, Beta Theater, Rudyard's British Pub, Avant Garden, Midtown Arts Center, and Spring Street Studio 101.

BabyKnuckle.com | facebook.com/BabyKnuckle | twitter.com/babyknuckle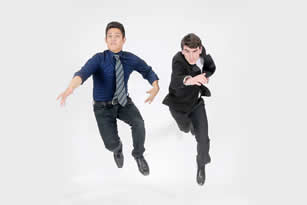 May 2, 2015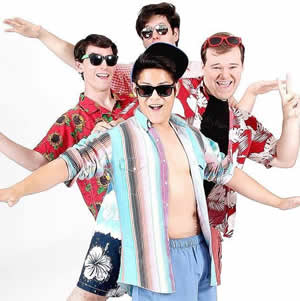 May 8, 2015
Flirt Reynolds is Max Holkan, Brendon Lara, Robert Price, and Vic Shuttee. These professional improvisers take the stage with nothing more than a single word from the audience, and create a once-in-a-life-time experience. Flirt Reynolds has been described as "Kickass," "Hilarious," and "Four amateur philosophers I'd want to get a beer with." With the perfect balance of smarts and hearts, they deliver high-quality post-modern performance art.  facebook.com/FlirtReynolds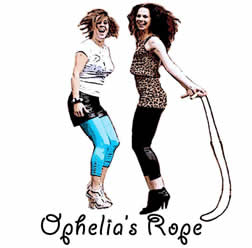 Ophelia's Rope is the female longform duo Autumn Clack and Ruth McCleskey.  They come backed with extensive experience in theatre, improv, dancing, singing, TV and film, and athleticism.  The Ladies of Ophelia's Rope improv journey started in 2005 when they joined Massive Improv. There they participated on multiple teams, taking them to Austin, Chicago, San Francisco. Eventually, though, both Clack and McCleskey drifted from Massive Improv and it wasn't until some time later that both heard the stage beckoning them to return to improv. And thus, Ophelia's Rope was born! The team has performed in the Houston Improv Festival, the Austin Out of Bounds Festival, ComedySportz, Boston Comedy Arts Festival, The Trill Festival, and The PIT in NY.
opheliasrope.com | facebook.com/OpheliasRope | twitter.com/OpheliasRope
The video and/or audio recording of this performance by any means whatsoever are strictly prohibited.
"5 Lesbians Eating a Quiche" is presented by special arrangement with SAMUEL FRENCH, INC.