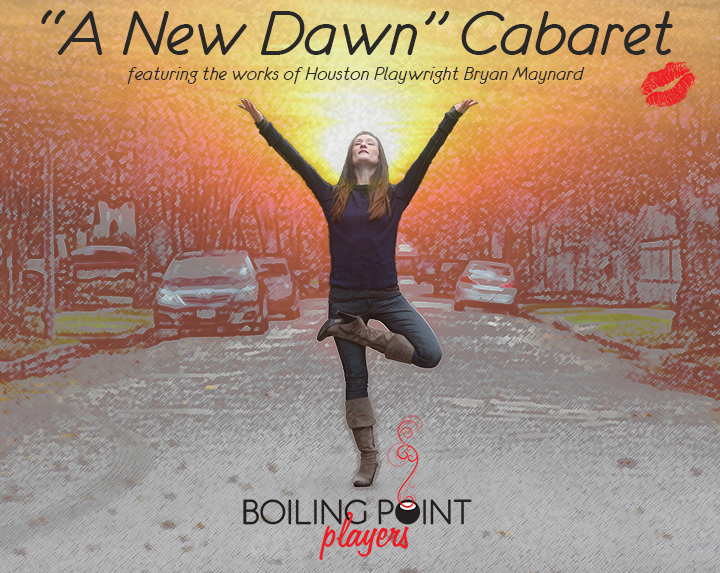 A NEW DAWN CABARET
"A New Dawn" cabaret, presents four original works by Houston playwright, Bryan Maynard, and intermingling song performances, improv and a sneak peak of BPP's upcoming production of Shakespeare's A Midsummer Night's Dream directed by Founder of Cone Man Running Productions, Christine Weems, featuring an all-female cast.
Thursday, January 21, 2016 @ 8:30 PM
Rudyard's British Pub
2010 Waugh Drive Houston TX 77006

EMCEE
Renata Smith is excited to be the emcee for this special event. She has been seen on stage with Boiling Point players in 'In Juliet's Garden" and two cabaret nights. Her love of theatre has taken her all over Houston and has landed her in many different roles. The role of emcee is a new one, but one she is proud to play.
SPECIAL GUEST PERFORMERS
AcroJive is an acrobatic duo formed by partners Steven Cox and Jessica Bird.

Engineer by trade, outdoor enthusiast by hobby, Steven comes from a rock climbing and slacklining background, as he naturally excels  at anything involving calculated body mechanics.

Jessica, a natural born performer, was a  gymnast, dancer, and cheerleader before yoga became her mental and physical retreat from corporate sales.

Steven had been practicing AcroYoga for 3 years, and Jessica for 3 days, when they met at an advanced workshop.  Acrojive was born and their acrobatic journey has skyrocketed ever since.

There is a chemistry in their movement that captivates an audience.  Alluring viewers with strength, flexibility, and synchronicity, Acrojive delivers a fluid performance and awe-inspiring entertainment.


ORIGINAL WORKS BY BRYAN MAYNARD
Bryan Maynard (writer) is ecstatic to be involved in Boiling Point's 'A New Dawn Cabaret.' When Bryan isn't hard at work with his cohorts at Cone Man Running Productions, he acts and writes as much theater as he can. He has written full length plays – (The Act of Murder!, The Admiral's Inheritance, Give/Take ~ co-written with Michael Weems), one act plays – (Waiting for Othello) and short plays – (Re: Kill the Messenger, White: The Lady Who Would Not Cry, Knight: The Man Who Would Not Die, Board to Death, Next!, She Said/She Said ~ both for Boiling Point Players & The Tortoise and the Stare ~ for Cone Man Running).
THE ELEMENT OF SUNRISE 
When you're on a first date, you have to wait until the moment is right for that first kiss. But when the element of surprise and the element of sunrise don't quite coincide, you might find yourself biting off more than you can chew… 
Cast: Jeana Magallon & Jeffrey Dorman
Jeana Magallon is a freshman BFA Theatre Major at the University of Houston. This is her first show with Boiling Point Players. Favorite roles include Jacinta in FuenteOvejuna at the University of Houston, Lenore Van Meer in To See the Stars, and Estelle in No Exit.

Originally from Austin, Jeff Dorman studied acting at Texas State University in San Marcos, and has appeared in numerous productions in Austin, San Antonio, and Houston, including Blood Wedding, Extremities, The Miss Firecracker Contest, Frankenstein, The Temperamentals, and Rope. Jeff is thrilled to be working with Boiling Point Players and hopes the audience enjoys the show.
REAL EYES 
Sometimes you never see the worst coming. But sometimes all you have to do is have an open mind in order to open your eyes. A carnival psychic helps a young woman realize something about her past and present that could lead them both to a brighter future. 
Cast: Amy Pope, Maredith Roberts & Kristie Schuh
Amy Pope is ready for her fifth time working with Boiling Point Players. Amy is on the Board of Directors at Company OnStage where she recently directed A Christmas Carol.

Originally from Baytown, Texas, Maredith Roberts now resides in Houston with her 11 year old daughter Mykel.  She attended the University of Houston and Ashford University where she studied Spanish and Liberal Art.  Maredith is making her debut with the Boiling Point Players and is beyond humbled to work with such incredibly talented ladies.  Prior roles include the Ballerina and the Nightingale in The Princess and The Pea.  Maredith would like to extend a special thanks to Ann McDonald, John Dubose and John Roberts for their unwavering love and support, to Katy Burns for the friendship and encouragement to return to the stage, and to Ms. Mykel for being the best kiddo any mother could ask for! I love you all.

Kristie Schuh is very excited to be performing in her first Cabaret.  She is a graduate from The University of Texas with a Bachelors of Arts in Theatre and Dance.  She is now a motivational speaker and professional Yoyo-er for elementary aged students.  Some of her favorite roles include parts in The Little Mermaid, Alice in Wonderland, and the Vagina Monologues.  She has also had the opportunity to work on film and television projects such as Friday Night Lights.   The best way to get on her good side is to bring her a pineapple pizza. 
FACE IT 
The nose knows…or does it? Ever wonder what happened to that odd girl that sat next to you in trigonometry? Probably not, but years later she may make you face the facts of why she's never forgotten you. 
Cast: Cindy Lou Parker, Callina Situka & Kristie Schuh
Cindy Lou Parker Cindy Lou Parker is extremely excited to work again with Boiling Point Players! She is a graduate of Sam Houston State University with a degree in dance. She was recently seen in Five Minute Mile with Cone Man Running Productions and a few of her favorite roles have been Patsy in Crazy For You (Houston Family Arts Center), Sally in You're A Good Man Charlie Brown (Upstage Theatre) and Legally Blonde (City Lights Theatre). She is also a proud member of Holding Space Dance Company (formerly known as ChinaCat Dance Company) in which she has performed in such shows as The Burning Times, the Houston Fringe Festival, and Pandora Theatre's Vox Feminina. She is so grateful to all at Boiling Point Players for this opportunity, thankful for the genius that is Bryan Maynard, and so blessed to share the stage with one of her best friends, Callina. Enjoy the show!

Callina Situka loves Boiling Point Players! She has recently been seen in Platanos y Collard Greens at Ensemble Theater. Some of her favorite credits include Nilsa (Platanos y Collard Greens), Cassie (A Deal in the Desert), and Ruth (The Woods). She actively works and performs with InterActive Theater Company, and holds a B.A. in Theater from the University of Houston. Thank you Autumn and Ruth, and her Bestie/acting partner, Cindy Lou!

For Kristie Schuh bio see Real Eyes
WAKE UP! 
There's no hitting the snooze button when Mallory gives you a call. Sleeping Beauties of the world beware! When she wakes you up, you stay up. 
Cast: Christine Weems
Christine Weems is a founding member of Cone Man Running Productions as well as a huge sports fan (Longhorn football, Astros baseball, Rockets basketball), an occasional playwright, a seldom actor, a photographer, lawyer, wife, mommy and extra in Office Space.  She is directing the world premiere of her lovely husband, Michael Weems' new play, The Right Kind of People in January for Cone Man Running and A Midsummer Night's Dream in March/April for Boiling Point Players.  Much love to the men in her life – Michael, Tommy, Jack and Sammy.  www.cvweems.com
SINGERS
Kimi Kent & Katy Burns
Kimi Kent is a story weaving singer song-writer rooted in the deep heart of Texas. 

Growing up she was surrounded by musicians young and old, including talented writers, players, and singers from the likes of rock and roll, blues, southern rock, and folk genres. After spending years in an uphill battle trying to discover her musical path, she at a young age stumbled into being mentored by multiple Grammy nominated/winning Country Music and Rock hit writers.  After a period of over 5 years Kent broke away from the comforts of home and her musical mentors in search of her true sound.  Along the way and while performing in Houston, Kent connected with current producer Philip Aaron Creamer, lead singer of Dovetail in late 2013.  Their sound instantly jelled brilliantly and within a year Kimi and Philip recorded and released "Wayward Child" Kimi's debut EP on April 11, 2014.

The EP is praise to Kent's life endeavors thus far with tracks of love, heartbreak and life lessons all beautifully produced by Philip Aaron Creamer and recorded at the Modern Electric in Dallas, Tx. 

All who have heard Wayward Child or seen Kent's live show either when she's backed up by her band or playing solo, become life long fans of the honesty and force that her "from the heart" songwriting and vocals deliver.

To follow and catch upcoming shows and latest news find her on Twitter and Facebook at: KimiKentMusic and Instagram at: Kimi_Kent

Katy Burns is delighted to be part of "A New Dawn"! Favorite credits include Boiling Point Players' recent production of "True Story" (Pilgrim), A Night in the Mind of Katy Burns, Boiling Point Players' production of In Juliet's Garden as Ophelia, HGO's Das Rheingold, A Night on the Edge with Katy Burns (shhh.. don't slip), Chicago (Velma), The Jeweler's Shop (Anna), NYC's premier of Lost and Found, CATS North American Tour (Rumpelteazer, u/s Victoria, Sillabub), The Caucasian Chalk Circle with Roxanna Stuart. Thank you for giving my voice and (all my feelings!) a landing spot, BPP! I cannot wait to see some of Houston's best talent bring this show to life -- RIGHT NOW! 
IMPROV - OPHELIA'S ROPE



Ophelia's Rope is a two-person long form improv group that takes its inspiration from you. That's right, you.  A typical show is kicked off by Ophelia's Rope asking its audience one or two random questions, proceeding to morph the answers into a setting, plot, and duo of unexpected, and sometimes quirky, characters. With no story predicted, no ending forecasted, Ophelia's Rope wanders the worlds of imagination, coloring surprising scenes their audiences inspired.
SHAKESPEARE'S A MIDSUMMER NIGHT'S DREAM SNEAK PEAK
Directed by Christine Weems
Featuring Autumn Clack, Ruth McCleskey, Helen Rios, Katherine Rinaldi