2017-2018
Eager to reunite with our splendid audiences, we jump off the season soon with
Positions by Daniel Ciba
Directed by Autumn Clack and Ruth McCleskey
Due to Hurricane Harvey our dates have changed
October 19 – 28, 2017 at Beacon Theatre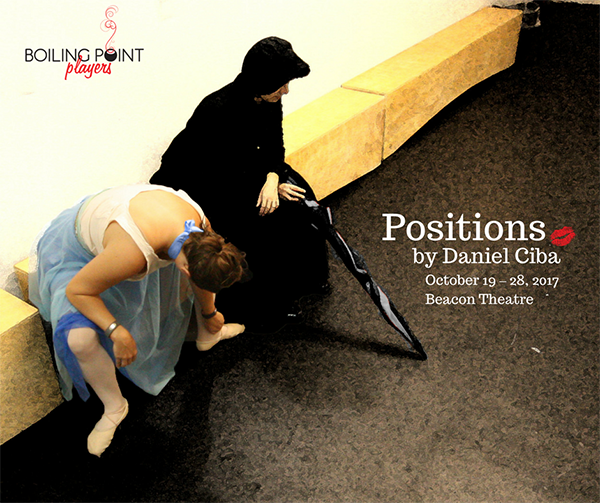 Positions is a fictional imagining of the life of the painter Edgar Degas, told by twelve of the dancers he painted. Their stories echo the history of the theater; each voice desperately struggling to present her position, as one by one they vanish from the stage. Ranging from the beautiful to the violent, these "paintings" construct a fragmented depiction of the power and chaos enacted by artists on their creations.
After Positions, we'll be carving pumpkins, scarfing down stuffing, singing carols and preparing for our annual tradition, the cabaret!
A New Life Cabaret
Thursday, January 18, 2018 Rudyard's British Pub
As always, we will introduce original works, showcase live musical performances, conjure up some improv and so much more. Be sure to join us for this night of the arts.
Our next endeavor will have us working hard to honor The Bard.
An all-female version of Shakespeare's The Merry Wives of Windsor
Directed by Christine Weems
March 8 - 24, 2018
Beacon Theatre
The greedy Falstaff aims to seduce two wealthy married women in the hopes of getting his hands on their fortunes. However, numerous townspeople are quick to interfere by means of lust, jealousy and revenge. With plots abounding, this comedy ventures into the timeless themes of scheming and young love.
We'll move from classic to innovative theater by introducing two original one-act plays for our Summer Series 2018!
Summer Series 2018
June 7-16, 2018
Beacon Theatre
Barren by Karen Heimbaugh
Parallel universes run amok as a mysterious being helps destroy a familiar designation of family. Can an "Everywoman" define a life with meaning outside of the parameters of expectation? Can She do it without saying fuck every five seconds?

AND
Three of a Kind by Michael Weems
Jamie and Reese, a terribly mismatched couple on their second date, are baffled when triplets are left on Jamie's doorstep. Jamie optimistically accepts the challenge to raise the children, but struggles to convince Reese that this was meant to be. After they retreat to their parents for sage advice, the couple meets at the hospital to make their final decision.

Hold on. The story isn't over yet.
When reading this did you presume Jamie was female and Reese male? You're ½ correct. This story will see its lead actors perform once, swap roles/genders, and then perform the show once again. Three of a Kind is a modern exploration on preconceived gender roles in today's society coupled with the story of this young couple's challenge.
Check out what we have done before: Past Shows